Sat ,25/08/2012
Yesterday morning Natalie woke up early and wouldn't go back to sleep because she was hungry. So I brought her downstairs and she ate breakfast while Jordan got ready for work. She finished and was playing with toys by the time Jordan came downstairs and was ecstatic to see him. She was singing to him and laughing at everything he was doing. She stood by his chair in the dining room and patted his back and just had fun being with Daddy. When it was time for Jordan to leave Natalie had a breakdown, she walked to him and held onto his legs so he couldn't go. When I picked her up she reached for Jordan and when he opened the garage and got into his car she bawled and kept saying "daddydada." Pretty sweet how much she loves her daddy.
Later in the day we were watching a video of her cousin Katie meeting her new baby brother for the first time. Natalie loved that video, she kept saying "Dadee" (Katie) and we watched it over and over because she loved it so much. A little time passed and I was chatting with Nicole about the video, so I tried to turn it on again for Natalie, but it wasn't working. The next best thing is a video of herself, so I turned on this video for her to watch:
Cute, right? NO! Big mistake, check out who is in the background. Natalie started bawling, "daaddydaddydada," she was SO upset. The good news is that Jordan and I had already planned for him and Natalie to go on a bike ride on the Frisco Highland trail after he got off of work. I was excited to have some alone time and to get things done without Natalie (she's super cute, but being productive is really hard when she is around).
Jordan and I had packed the bike trailer in his car and I got everything Natalie needed for a fun afternoon with Jordan. So we met Jordan at his work and they were ready to go. I was super productive while they were gone and pretty amazed at how quickly I was able to get things done without Natalie unfolding or throwing stuff.
Jordan came home and told me that they had a fun time and stopped at Culver's and got ice cream afterward and at Academy to get some bike gloves for him. I asked how the bike ride was and if Natalie was good for him, and he asked Natalie if they should tell me about "the incident." As you read what happened, remember they were on a designated bike trail (no cars or other vehicles are allowed on it). Apparently has never put the bike trailer on his bike before, I have always done it for him, so this is partly my fault. Bike trailers have a hitch that attaches to the back tire of a bike and a pin that attaches the trailer to the bike (to attach it quickly). Here's a picture to help: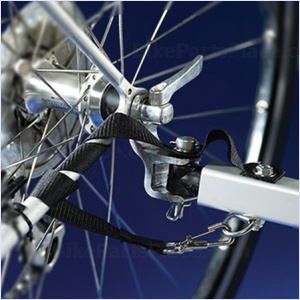 Jordan thought the center part (the black piece) just slid into the bike part and didn't put the pin through (oops!). About 3 miles trail they hit a bump and the bike trailer came off his bike and slid off the trail onto grass. Natalie was a bit startled, so she cried, but once Jordan was there, she was fine. Jordan attached the bike trailer (with the pin this time) and they went back to riding. That is how Natalie had her first experience off-roading.
Natalie loves it!